I went to our Parish Christmas dinner in St Ludmila's Hall, this evening, followed by a pageant put on by the schoolchildren in our catechism classes.
We had delicious fried chicken, scalloped potatoes, and a plethora of delicious casserole side dishes. I took a simple green salad, with a bottle of my homemade vinaigrette. It seemed to be popular. At least the container was alnost empty when I brought it home. And desserts to die for! Chocolate everywhere.
Afterwards, we adjourned to the Church upstairs and enjoyed an amusing pageant put on by the children, with one adult playing a grumpy dad who was tired of Christmas and had decided to sleep through it. His son tells him that mom said he was a humbug and a Grinch, and proceeds to read his father the Christmas story.
At that point, Joseph and Mary came in and processed up the aisle to the manger. There was one minor blip that I noticed. When Mary handed Joseph the Baby Jesus, with instructions to put him in the manger, Joseph sort of tossed the Infant into it!
As it progreesed the angels announced the Birth of the Messias to the shepherds, who abandoned their flocks to come worship him. Then the Magi arrived with their gifts.
Interspersed in the arrivals were carols sung by the children, ending with Joy to the World. By the ending the grumpy old dad has recovered his Christmas spirit and is prepared to welcome the Christ Child with great joy.
Here is our Christmas Creche outside the Churvh. A bit more fitting than the abomination in St Peter's Square, eh?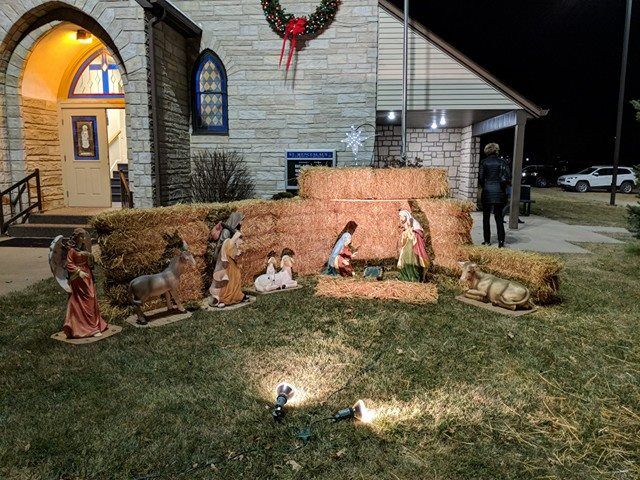 And here are the Magi, patiently awaiting the birth of the Long Desired Christ Child, to bring him precious gifts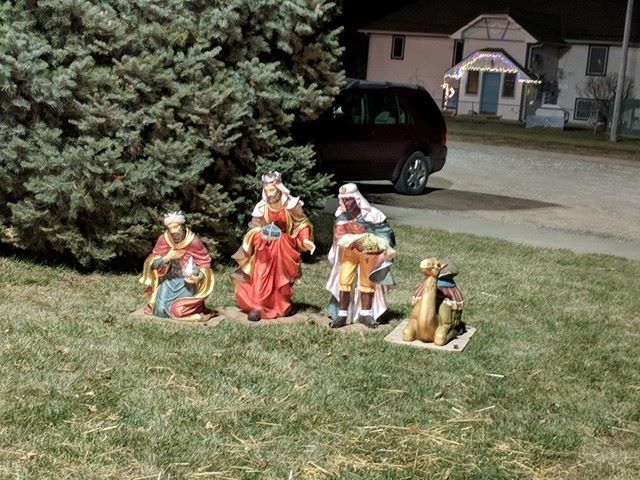 Photographs taken by my friend. Joshua Johnson, since
I forgot my phone. He is to be received into our One,
Holy, Roman, Catholic, and Apostolic Church at
Midnight Mass on Christmas. Please say a prayer
for him.