Good on them, but this will not sit well with the ChiCom Slave Masters. Pray for the Church in China!
From Aleteia
By John Burger
Memorials of the 1989 victims are increasingly an act of defiance, as Beijing wields heavier hand in former British colony.

Every year on the anniversary of the June 4, 1989, military suppression of protests in the capital of China, the Tiananmen Square massacre has been commemorated in Hong Kong. But in the years since Great Britain returned the colony to China, and especially in more recent years, the annual observance has become increasingly an act of defiance on the part of Hong Kongers.

Last year, authorities banned the June 4 gatherings, citing the COVID-19 pandemic. But people still came out to light candles in memory of the dead, perhaps with even greater resolve, as they also were protesting an impending national security law that Beijing was forcing upon Hong Kong.

Over the past year, there have been many arrests of Hong Kongers protesting that law, which took effect June 30. The most prominent person to be arrested, media mogul Jimmy Lai, is a Catholic. On Friday, he was sentenced to prison for 14 months over his participation in an unauthorized demonstration last October.

Now, the Catholic Church in Hong Kong has announced that the students and other protestors who died on the pavement of Tiananmen Square 32 years ago will not be forgotten. Seven Catholic churches in the territory will offer Mass in their memory on June 4.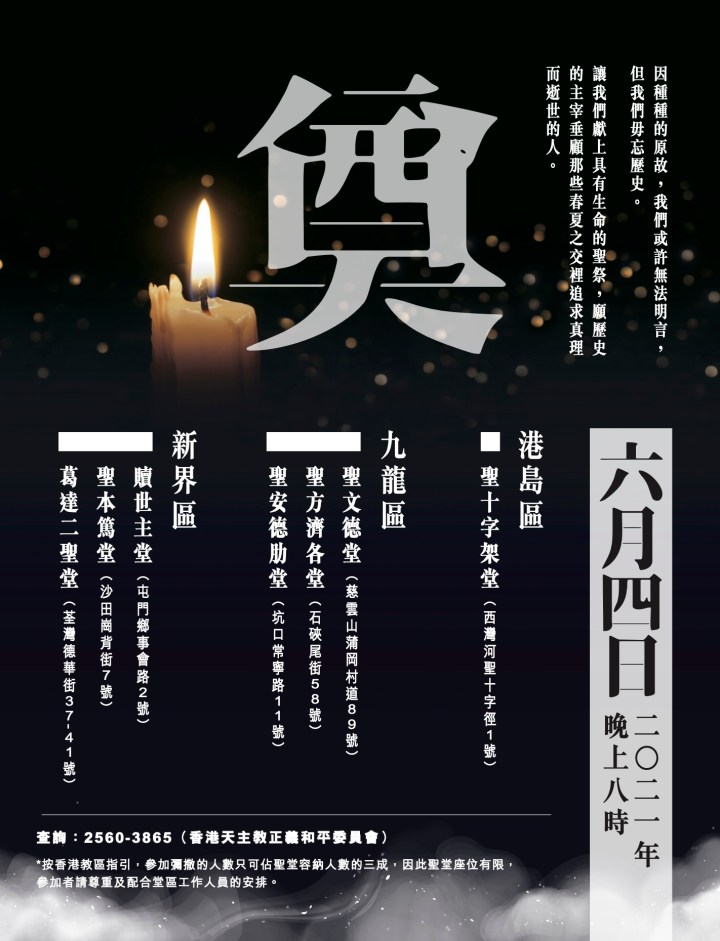 "For various reasons, we may not be able to speak openly, but we must not forget history," the Diocese of Hong Kong's Justice and Peace Commission said on its website. "Let us offer the life-giving holy sacrifice of the Mass that the Lord of history may look upon those who died in the spring and summer in the pursuit of truth."

The event comes just weeks after the announcement that the Diocese of Hong Kong will have a new bishop: Jesuit Fr. Stephen Chow. Though he will not step into the role until December, Bishop-elect Chow, who is head of the Chinese Province of the Society of Jesus, said at a May 18 news conference that he would pray for the victims of China's 1989 crackdown on pro-democracy protesters, especially on occasions like observing the June 4 anniversary.

"Sometimes in the past, I had joined the event in the public arena, but there were times I could not go," he said.

"So I pray, I pray for China, pray for all those who passed away in 1989. Whether it is possible this year depends on the legal requirements," he added.

On Thursday, the Hong Kong police rejected a request for permission for a march and candlelight vigil commemorating the Tiananmen victims. Once again, they cited the threat of the coronavirus pandemic — even though the South China Morning Post reported that day that Hong Kong marked a day of zero new COVID cases for the first time in seven months.

Porson Chan, of the diocese's Justice and Peace Commission, did not think the police restriction will affect plans for the Masses.

"A Catholic Mass is a legal religious activity. Under the policy of the coronavirus, we should allow the faithful to fill up only 30% of the capacity of a single church," Chan told Aleteia Friday. "If we keep this regulation strictly, we can hold a public Mass legally."