My Diocese, my Bishop, and I couldn't be there! I no longer drive, and try as I might, I couldn't find a ride. I tried to talk my friend, Lucas, into driving the almost 200 mile, three hour drive from Broken Bow. He couldn't make it. My Pastor was committed to attending the fall festival of the next Parish up the road. And I couldn't find anyone else.
But God bless his Excellency, Bishop Conley, and the 2,500 people who did make it! It's obvious that our good Bishop didn't get the memo that religion is to be kept out of the public square! You can't get much more public than a Eucharistic Procession round the State Capitol Building!
From The Remnant
On Sunday, November 4, 2018 Bishop James Conley led a Eucharistic procession around the Nebraska state capitol in Lincoln that is now being hailed as the largest one of its kind in the country this year.
Approximately 2,500 faithful braved the cold and wind to join in the public manifestation of faith in the Real Presence of Jesus Christ in the Sacrament of the Altar.
Remnant readers will immediately notice the throngs of faithful actually kneeling on the ground in front of the monstrance, the traditional prayers, traditional vestments, altar boys (not girls), and various other aspects which marked it with a distinctively traditionalist flavor.
Well, for one thing Bishop Conley is no stranger to showing support for tradition and Catholic restoration initiatives, having personally offered the Traditional Latin Mass himself and even ordained deacons and priests for the Fraternity of St. Peter whose seminary of Our Lady of Guadalupe is located in nearby Denton, Nebraska.
Watch this two-minute video recap of this public demonstration of faith and see if you can't pick out the telltale signs of some pretty frequent exposure down in Lincoln to the traditionalist priests of the FSSP:
Does this magnificent public demonstration of confidence in and devotion to the Real Presence of Christ in the Eucharist have anything to do with the wellspring of grace that's been operating in Nebraska for the past several decades?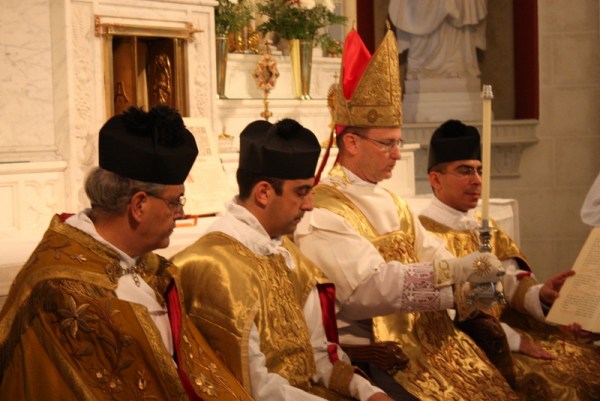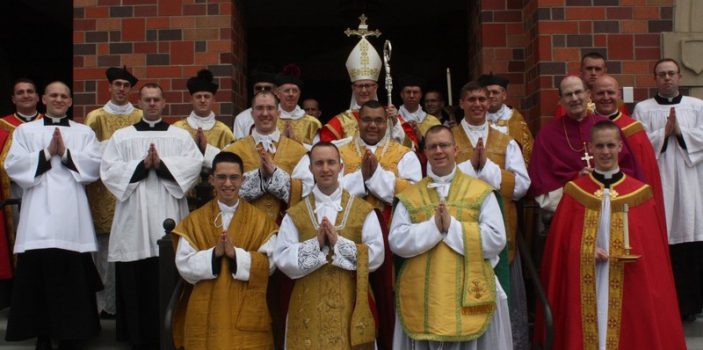 Thank you, Bishop Conley! May God bless you