Need I point out that he's a Democrat? I thought not!
From Legal Insurrection
By Mary Chastain
I'm tired of saying this, but it's still true: All animals are equal, but some animals are more equal than others.
Denver Mayor Michael Hancock regurgitated the talking points from so many other Democratic mayors and governors: Stay home for Thanksgiving!
Like so many of those mayors and governors, Hancock is a hypocrite.
Hancock flew "to Houston Wednesday to visit his daughter in Mississippi, and that his wife is already there."
The mand had the nerve to tweet this 30 minutes before his flight.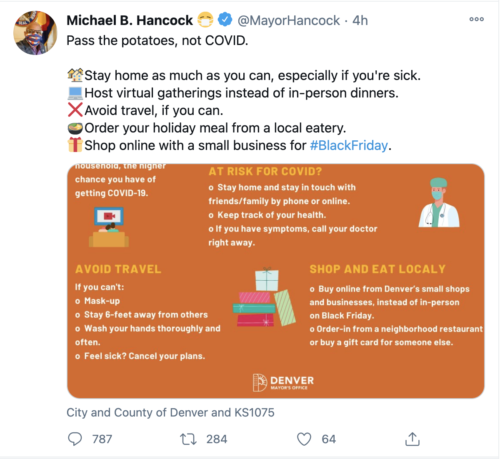 Did you read it? "Host virtual gatherings instead of in-person dinners." "Stay home as much as you can, especially if you're sick."
Not only did Hancock choose not to stay home, but he is having Thanksgiving with family.
Hancock and his wife could not have a virtual gathering with their daughter!?
Hancock's office actually tried to spin this in his favor. Instead, it came off that he knows better than his constituents. You know, the little people (emphasis mine):
"As he has shared, the Mayor is not hosting his traditional large family dinner this year, but instead traveling alone to join his wife and daughter where the three of them will celebrate Thanksgiving at her residence instead of having them travel back to Denver," a statement from the mayor's spokesperson reads. "Upon return, he will follow all necessary health and safety guidance and quarantine."

According to an email obtained by 9NEWS, Hancock's assistant said the mayor would be out of office from Wednesday to Friday.
But but but Hancock and his family canceled their "traditional gathering" with extended family!
Because we plebeians cannot take the proper precautions upon our return from visiting families?!